Water as a data carrier via DeltaQS
Complete process monitoring and high process stability
DeltaQS: Your monitoring system for cooling circuit data
Integration and consideration of previously invisible parameters in the cooling circuit
Water is a cooling medium and information carrier at the same time. It is worth taking a closer look here, because the cooling circuit parameters have a direct effect on the processing or product quality.
The monitoring of the cooling circuit data prevents a process-technical partial blind flight. This is given as soon as an essential part of the process cannot be monitored.
Data acquisition with DeltaQS
The DELTATHERM® monitoring system DeltaQS is available as a stand-alone unit or can be integrated directly into the cooler.
DeltaQS measures volume flow, temperature and pressure of the cooling medium.
All data are shown on the display and thus allow a more precise control of the cooling circuit.
What process information does water provide, among other things?
Real(time) cooling capacity:
Automatic calculation of the cooling capacity from the
available parameters of the cooling circuit data
Warning about leakage or other malfunction:
A sudden increase in the flow volume and/or a sudden drop in
pressure in the circuit indicates a leakage
Increase in pressure in the cooling circuit can be caused by a kinked
hose or by contamination in the feed system
Undersized recirculating chiller:
If the actual temperature is permanently above the target temperature,
this indicates that the recirculating chiller is undersized.
High process stability with DeltaQS
Control, Monitoring, Evaluation and Documentation
The data is read out via analogue or bus interface, such as Profibus, Profinet or Ethernet.
For further information processing it is advantageous to implement the DeltaQS parameters into the control systems of the production plants in order to be able to process them for the production process, for the purpose of control, monitoring, evaluation and documentation.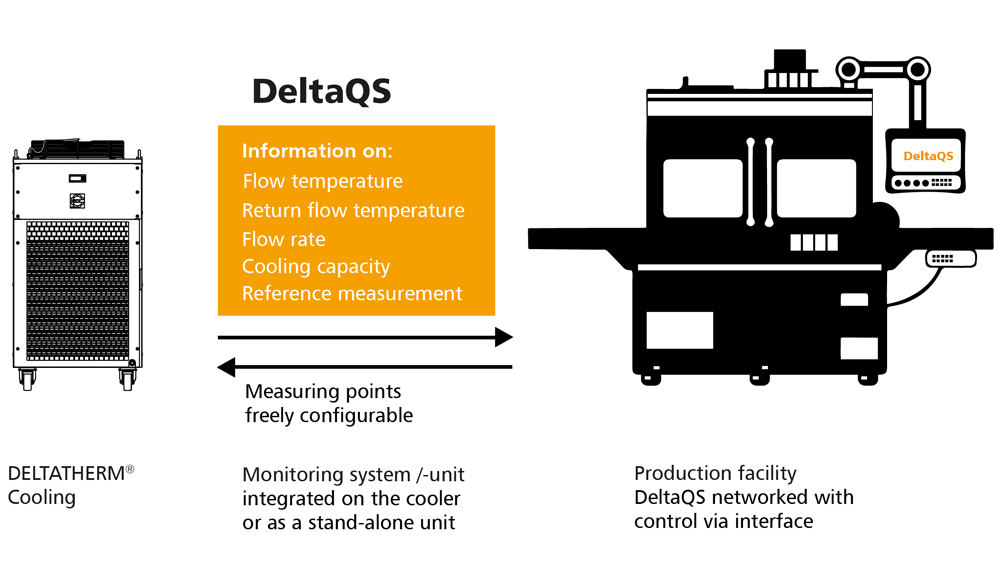 Advantages of DeltaQS
Monitoring system for cooling circuit data

Data transfer via analogue signals or bus interface possible, such
as Profibus, Profinet or Ethernet
Integration of the data into the control system of machine manufacturers for further processing – for control and documentation
Further processing of the data during the entire process with
implementation in the machine control
The measuring points are freely configurable
Enables output of fault messages
Seamless monitoring & documentation of the processes
Efficient analysis and fault localisation/diagnosis
DeltaQS can be connected to any cooler
DeltaQS can also be operated with DELTATHERM®-heat exchanger
groups
Simply contact us. We will be happy to advise you.
Learn more – make your inquiry here
Quick contact
E-Mail: info@deltatherm.de
E-Mail: service@deltatherm.de
Phone: 0049 2245 6107 0
You can reach us from
Monday to Thursday
from 7:30 a.m. – 4:30 p.m.
Fridays
from 7:30 a.m. – 3:30 p.m.
Here you can find us
Gewerbegebiet Bövingen 122
53804 Much, Germany