Environmentally Friendly Refrigerants
Reduction of greenhouse potentials
Low GWP – alternative refrigerants
with low GWP value
Alternative and more environmentally friendly refrigerants with a low GWP (Global Warming Potential) are becoming increasingly important for use in refrigeration systems. The GWP value describes the global warming potential of a refrigerant. The higher the value, the more impact the refrigerant has on our climate. The reduction of harmful refrigerants with a high GWP value is an essential part of the F-Gases Regulation EU-VO 517/2014, which came into force in January 2015. Natural refrigerants such as propane are exempt.
More information on the F-Gas Regulation can be found under the heading Service – Operator Obligations.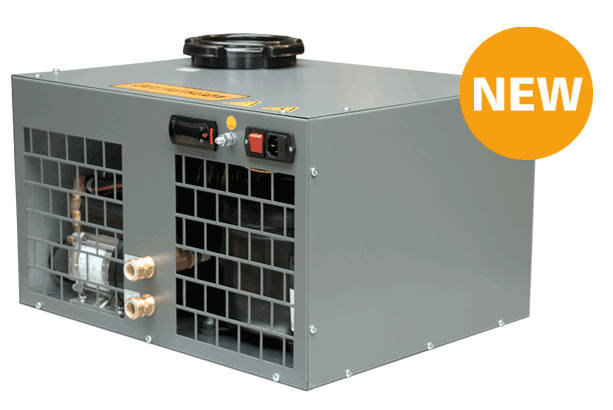 Climate-friendly.

Energy-saving.
Blue-Mini 09.1: GWP-value 3
Natural refrigerant: Propane R290 < 150g
For our smallest cooler series, DELTATHERM® LT Mini, we have developed a climate-friendly alternative with propane as refrigerant.
Propane is a natural refrigerant and is suitable as an energetically good cooling medium for refrigeration systems with small and medium refrigerating capacity.
Thanks to technical optimisation, the Mini needs less than 150g of refrigerant, thus excluding the risk of fire and explosion. Our Blue-Mini is therefore not subject to explosion protection. Propane is considered to be particularly energy-saving with ideal thermodynamic properties.
Cool naturally, safely and efficiently with the Blue-Mini.
Our Callback Service
Fill out the form below and we will be happy to contact you to answer any questions you may have regarding our products or services.
Quick contact
E-Mail: info@deltatherm.de
E-Mail: service@deltatherm.de
Phone: 0049 2245 6107 0
Here you can find us
Gewerbegebiet Bövingen 122
53804 Much, Allemagne
You can reach us from
Monday to Thursday
from 7:30 a.m. – 4:30 p.m.
Fridays
from 7:30 a.m. – 3:30 p.m.