Industrial temperature control units TM-W Series (water)
Temperature range water up to +160 °C
Standard temperature-control devices for universal use
DELTATHERM® temperature control units of the TM-W Series are especially designed for special requirements and guarantee permanent availability when operating at high temperatures and pressures.
The specific heating surface load of the electric heaters is designed in such a way that no damage can occur due to overheating during normal thermal flow.
Individually configurable and expandable according to customer specifications.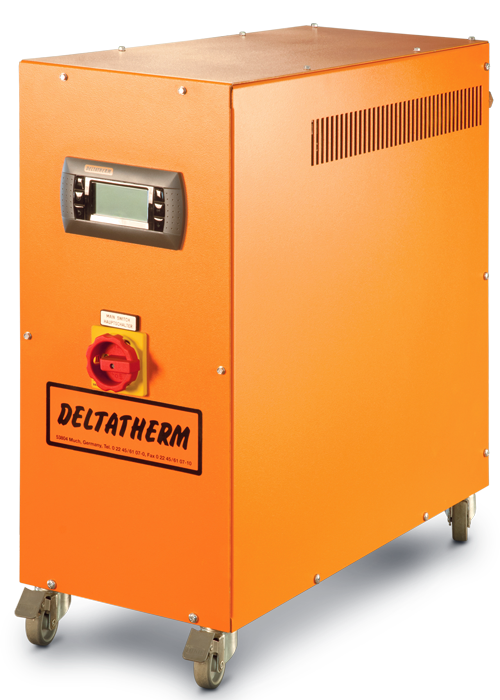 TM-W: Process reliable and easy to maintain. Easy to operate.
An integrated level monitoring system ensures that an alarm is triggered when the media content is too low, which is shown on the controller display, and the temperature control unit switches off.
In addition, the devices are protected by many other safety devices – process safety is always a priority in our designs!
DELTATHERM® temperature control units of the TM-W Series are highly process-safe, maintenance-friendly and very easy to operate.
All components in connection with the circulating medium are made of rustproof materials.
Standard types of the TM-W Series for water
| Type | Fluid | Temperature | Heating capacity | Cooling | Special features |
| --- | --- | --- | --- | --- | --- |
| | | | | | Directly cooled temperature-control unit |
| | | | | | |
| | | | | | |
| | | | | | Magnetic coupling pump (standard) |
* The units are supplied with cooling capacities of 0 kW (heating only), 15 kW, 45 kW, 90 kW and 135 kW. These specifications apply to a difference of 65 °C between cooling water flow and temperature control flow.
TM-W-90/dir for directly cooled processes
TM-W-90/dir units operate with water in the temperature range from 10 to 90°C and are
supplied as standard with heating outputs from 4 to 90 kW.
They operate as a closed system with a closed tank and are a real alternative to pulse cooled or directly cooled processes.
If the tools are cooled directly via the central cooling system, the tool temperature is controlled by throttling the water flow.
The use of a DELTATHERM® TM-W-90/dir temperature control unit brings considerable advantages in this case, as the flow through the process is constant, i.e. independent of the pump of the central cooling system.
Directly cooled temperature control units should be used for processes with low flow temperatures, as they achieve significantly better cooling performance than indirectly cooled temperature control units.
TM-W-90 open / closed system
TM-W-140 open / closed system
TM-W-160 up to +160°C
Main areas of application
Plastics industry, food industry, printing and packaging industry, chemical & pharmaceutical industry etc.
DELTATHERM® temperature control units are as variable as all our products, thanks to a multitude of options.
Options include redundant pump, analogue interfaces (0-10 V or 4-20mA) and digital interfaces (RS 232, RS 422, RS 485, CANbus, MODbus as well as Profinet and Profibus), emergency cooling, special voltage, leak – stop function and much more.
Contact us
If you need help or have further questions, we will be happy to help you. Feel free to send us a message via the above direct inquiry.
DELTATHERM® TM-W product views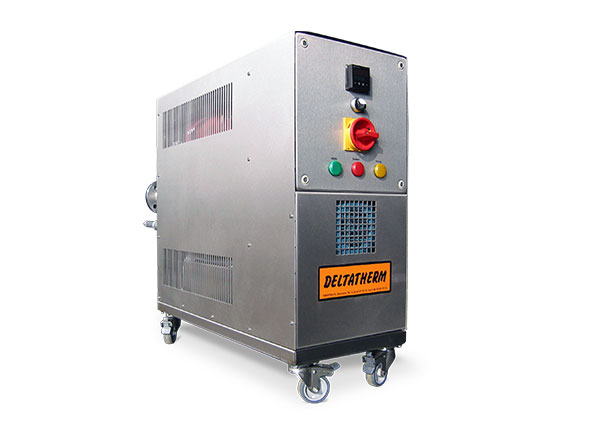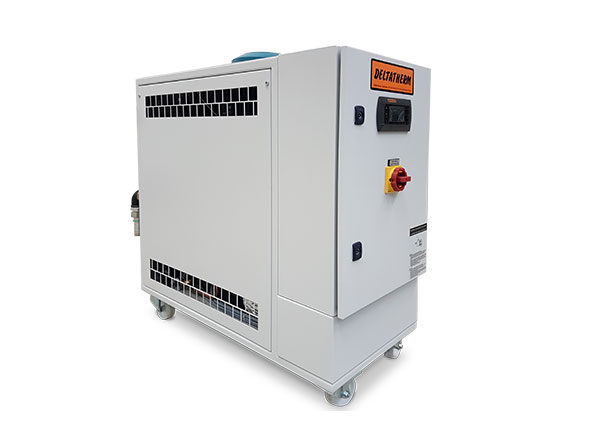 Main areas of application