Industrial cooling and heating.
A trusted partner to the industry for 50 years.
High-quality series and customer-specific cooling and heating solutions since 1971.
DELTATHERM® Hirmer GmbH: Family business in second generation
Leading manufacturer of industrial refrigeration systems and temperature control units 
We are an owner-managed family business with headquarters in Much near Cologne which has been producing industrial refrigeration systems and temperature control units since 1971.
Thanks to our broadly diversified product portfolio, we can react individually to the specific requirements of our customers from a wide range of industries. We manufacture chillers, heat exchanger systems, temperature control units, heaters as well as cooling systems and cooling components – from individual units to series production. In close cooperation with our customers, our engineers meet every challenge and develop customised solutions and individual designs.
"We focus on only one thing: customer satisfaction. We achieve satisfaction through our high product quality, permanently available service and the
highest level of flexibility, through which we find individual solutions for all requirements. And we live out this claim – every day, for over 50 years."
Sascha and Mario Hirmer (ri)
Managing Directors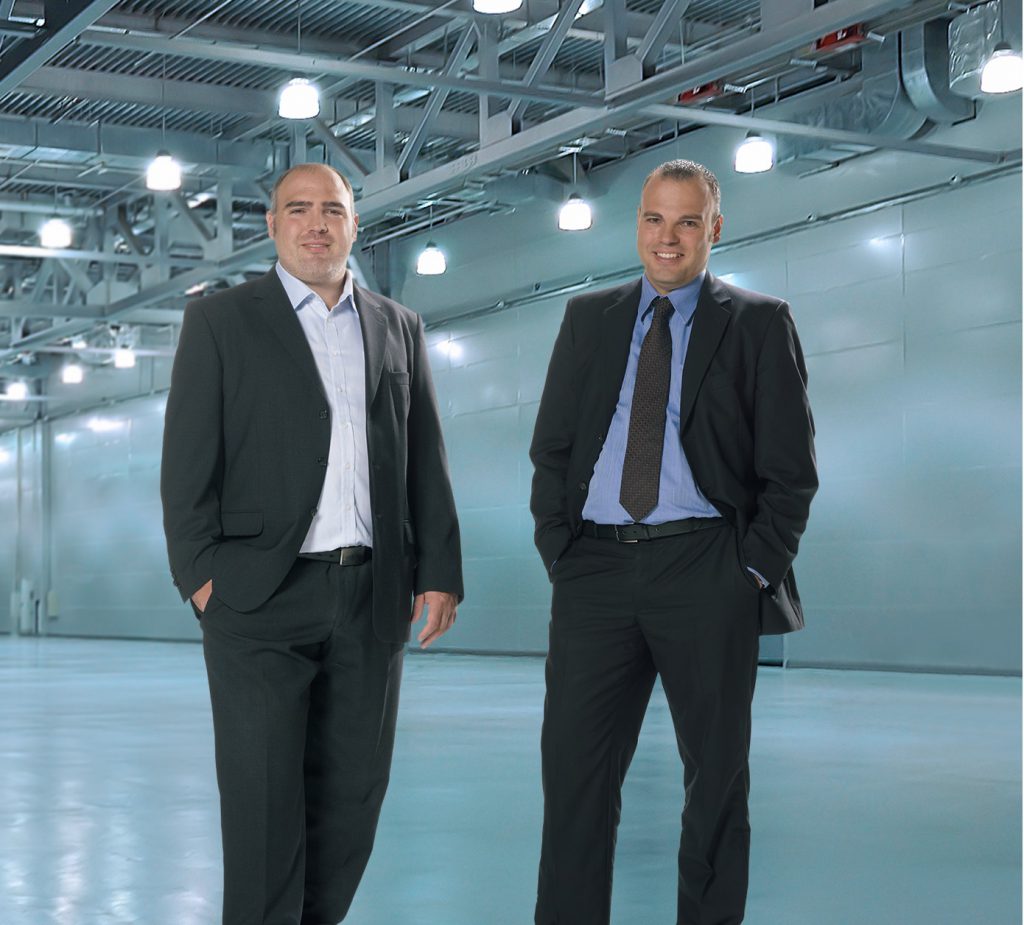 At DELTATHERM® qualified specialists, from skilled craftsmen to master craftsmen and engineers, ensure an optimum mix of planning, project planning, careful manufacturing and meticulous quality control.
Thanks to an in-house planning and design department, control system construction and software development, including an on-premises paint shop, we cover almost the entire vertical range of manufacture for cooling and temperature control units. Switch cabinet construction is one of our core competences.
Our close local partnerships with predominantly European suppliers ensure a smooth supply chain and reliable delivery.
Qualities such as precision, reliability and delivery reliability are firmly anchored in our corporate philosophy. These values make DELTATHERM® a competent partner and preferred supplier to the industry – worldwide.
Our cooling and temperature control units are used worldwide today.
The experience we have gained from this flows into every single system
– every day.
Quality and service for cooling systems and temperature control units
As a leading German manufacturer of industrial cooling systems, we operate internationally with representatives and service points in many countries. This enable us to provide fast and effective service to our customers worldwide.
An expanding worldwide network of service partners supports our factory customer service in 60 countries on six continents.
>95 % of all spare parts are always in stock, ready for dispatch within 24 hours. Quality, process reliability, ease of maintenance and user-friendliness are our top priorities. All equipment and systems are subjected to an extensive function test before shipment.
Ensuring the productivity of your DELTATHERM® machines is a priority for us, because we know exactly what the cost of downtimes and production losses are for our customers.
Get to know us and convince yourself of DELTATHERM® industrial cooling and heating solutions. We look forward to becoming your partner for reliable process cooling and temperature control.
Your DELTATHERM® Hirmer GmbH