Decalcification and cleaning of temperature control circuits
For cleaning of closed circuits
DT-EK-pumps: designed for operation with diluted citric acid or ascorbic acid (DT-N CL931)
DELTATHERM® descaling pumps allow the cleaning of any closed circuit and are very suitable for the descaling of pipes, hot water tanks and heat exchangers.
The DT-EK pumps are designed according to the modular system, are resistant to chemicals and allow clean, rational working without dismantling system parts.
Limescale residues can thus be attacked from both sides.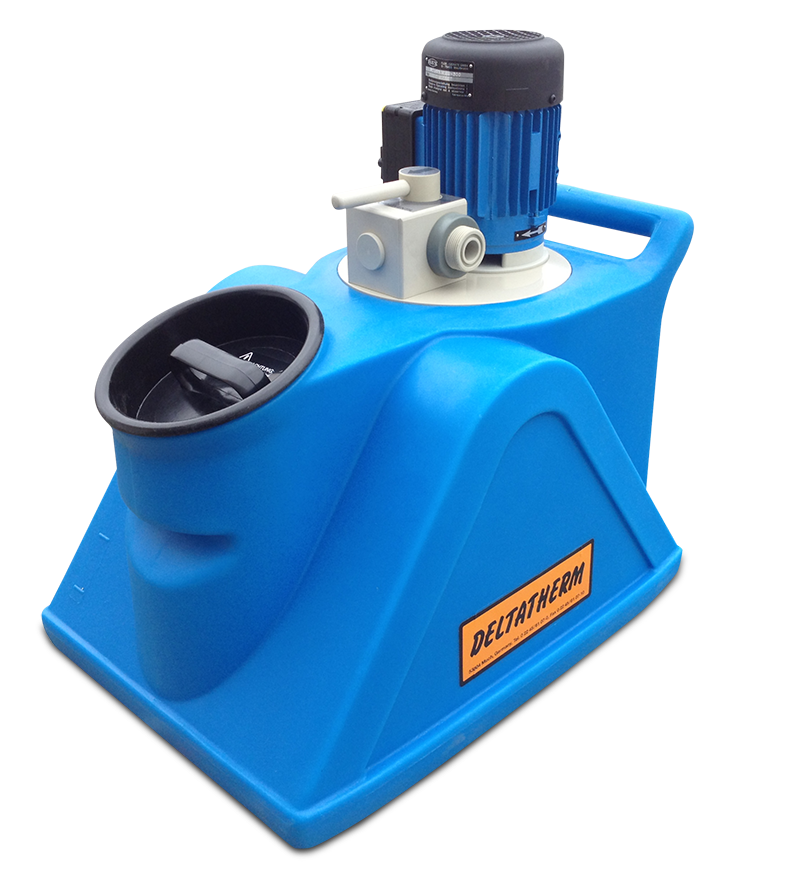 Clean heat exchangers ensure process reliability and product quality
A tiny film of dirt in heat exchangers can significantly impair heat transfer and strongly deteriorate both process reliability and the product quality itself. Regular cleaning of the circuits prevents this effect and eliminates production problems.
The DT-EK pumps are equipped with a flow switching valve.
DT-EK pumps quality features
Acid-proof materials
Practical handling
Cold and warm operation (up to approx. 50°C)
Designed for 24-hour continuous operation
DT-EK with switchable multi-way control valve for stepless regulation of pressure and flow rate as well as for control of flow and return.
We recommend the cleaning agent DT-N CL931 for this purpose.




Head


9,5


m






Flow rate


84


l/min




Speed


2800


l/min




Tank capacity


50


l




Temperature


to 50


°C




Weight net


12,8


kg




Height


620


mm




Length


640


mm




Width


490


mm




Hose connection


3/4


R




Motor


Single-phase - alternating current
220 V, 50 Hz / 0,30 kW






Protection class


IP 54, Overload protection






DT-N CL931 cleaning agent features
DT-N CL931 is a highly concentrated low odour liquid detergent for the chemical cleaning of water-bearing systems.
DT-N CL931 removes lime, rust, oil and grease-containing soiling with simultaneous
passivation of steel and grey cast iron surfaces.
DT-N CL931 infiltrates the existing deposits and partially dissolves them from the
metallic substrate. This effect leads to a fast and cost-effective removal of the coatings.
DT-N CL931 also emulsifies greasy components and disperses insoluble dirt particles.
The incorporated inhibitor protects steel, stainless steel, copper, copper alloys, hot-dip galvanised and chromium-plated parts.
The protective effect is confirmed by the Forschungs- und Materialprüfungsanstalt Baden-Württemberg with test report no. V 800989.2
Product description: DT-N CL931 is a yellow viscous liquid; contains mineral acid, corrosion inhibitors, dispersants and wetting agents. DT-N CL931 is not sensitive to frost or heat. pH value (10%): 1.3 + 0.2 |Density: 1.44 + 0.02 g/cm³ at 20 °C container: 25 kg
DT-N CL931 application and handling
Contact us
If you need help or have further questions, we will be happy to help you. Feel free to send us a message via the above Direct inquiry.