KT Series cooling towers for closed and open circuits
Cooling capacity from 100 kW to 15,000 kW
Suction and pressure ventilated cooling towers for evaporative cooling and wet cooling

Cooling towers of the DELTATHERM® KT Series are characterised by an extremely economical and reliable operation as well as a long service life.
Our portfolio includes a variety of cooling towers with closed or open consumer circuit.
Standard cooling towers are made of hot-dip galvanised sheet steel; are also optionally available in stainless steel or with plastic cladding.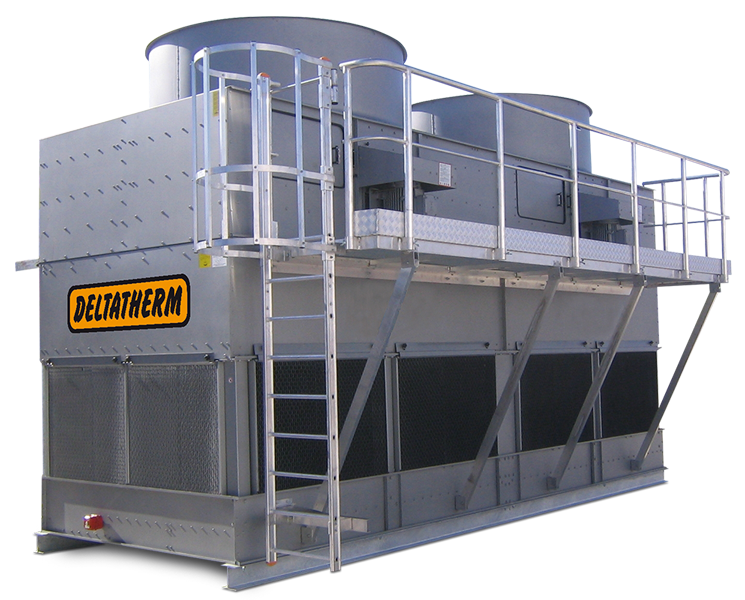 Cooling towers and evaporative condensers are used for heat removal from industrial processes and production plants, as well as for the operation of refrigeration systems.
Cooling towers with closed process water circuit
Here, cooling is achieved with the aid of the evaporation effect through air contact via a heat exchanger. The process water has no direct contact with the spray water.
Cooling towers with open process water circuit
In wet cooling, the water to be cooled is sprayed into the air. The air is heated, resulting in a chimney effect, and the water releases its energy.
Cooling towers that use wet cooling have a very high power density.
Water loss during evaporation is minimised by droplet separators.
Quality and performance features KT cooling towers
Heat exchange body made of plastic elements with high exchange capacity
and high mechanical load capacity
Special high-performance radial or axial fans stand for a low
noise generation
Optionally available silencers reduce the noise level to a minimum
Drive by three-phase motors according to IEC standard
Packing made of PVC (open cooling tower)
Drip traps and spray nozzles made of PVC, other components made of heavy-walled galvanised sheet metal panels
All screw connections made of stainless steel
The galvanised sheet metal parts receive an additional external corrosion protection on the basis of PVC/acrylic resin
Complete central cooling tower system ready for use with an electronic Microprocessor control available (option)
Maintenance
Especially for evaporative cooling units, water treatment is essential to prevent the formation of legionella and the growth of bacteria.
Regular maintenance will keep your cooling tower clean. This ensures a
long operating time and highest efficiency of the cooling tower.
If you need help or have further questions, we will be happy to help you. Send us a message directly via the above  direct inquiry.
KT Series cooling towers product views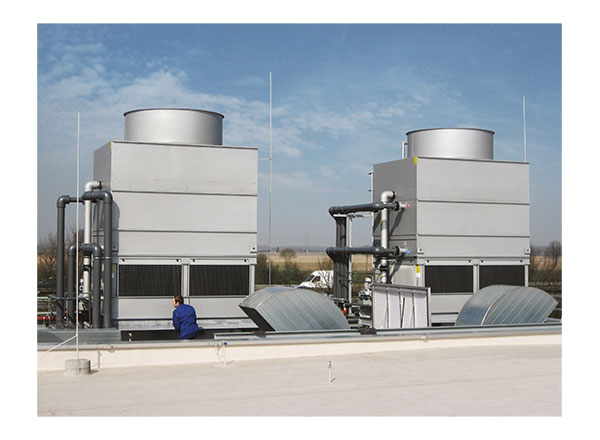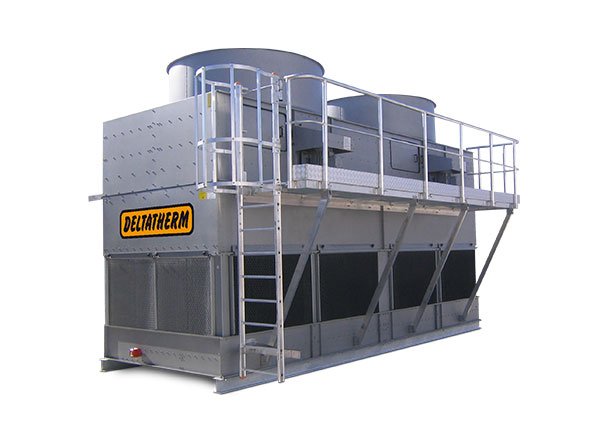 Main areas of application