RKH Series industrial coolers
Cooling capacity 150 kW to 5,000 kW
Compact cooling units and refrigeration systems for the large capacity range
The air- or water-cooled industrial cooling systems of the DELATHERM® RKH Series consist of the components refrigerant circuit, water circuit and electrical engineering.
The basic version is equipped ready for connection and operation, in air-cooled design for frost-free indoor installation.
Individually configurable and expandable according to customer specifications.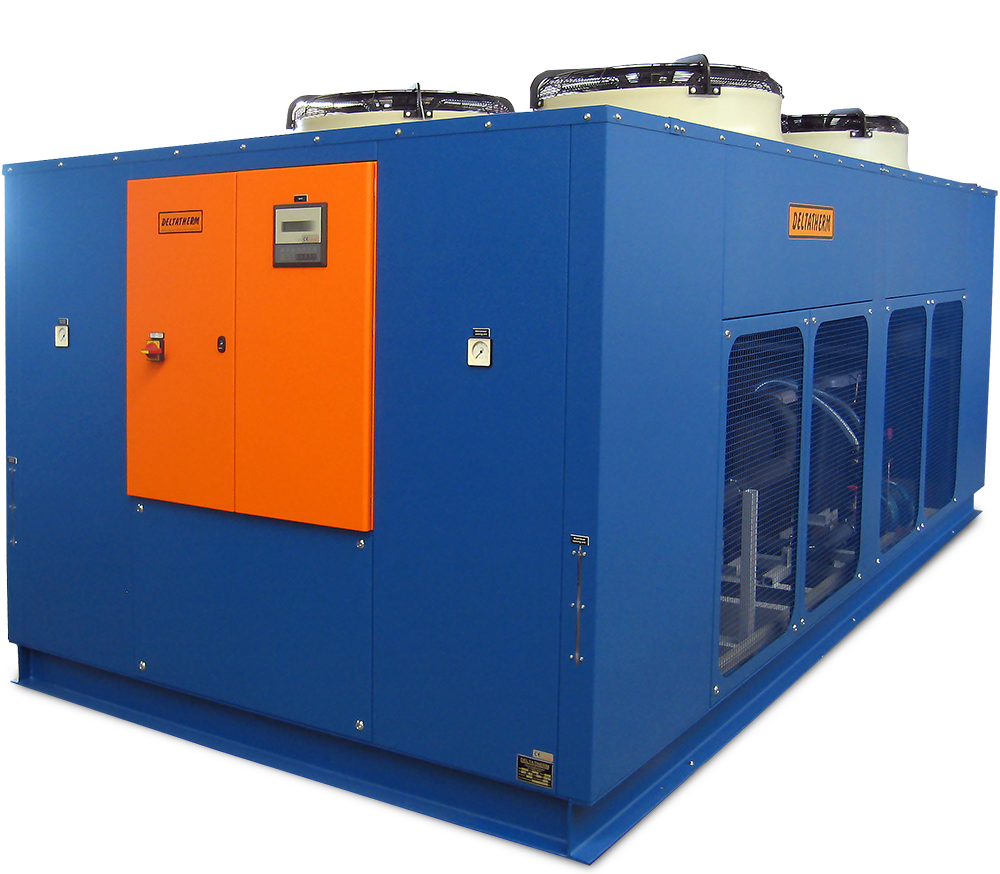 Tailor-made cooling solutions to meet your needs
The DELTATHERM® performance portfolio includes all custom designs of the RKH Series: designed for your specific application and tailored to the most different requirements and purposes.
Thanks to extensive equipment options, such as special voltages and frequencies, winter regulation, stepless power adjustment, water filters, multi-circuit systems, interface connection and much more, we can realize even the most demanding specifications and expectations.
Quality and performance features of RKH industrial recooling systems
High precision control
Automatic power adjustment
Standard temperature stability +/- 1 K
Stable profile frame construction
Service friendly arrangement of all components
Eco-friendly and energy-saving compact unit
Highly efficient low-vibration and low-noise compressor
Condenser and evaporator adapted to the application
Completely factory assembled refrigeration circuit with all necessary refrigeration and safety components as well as with complete oil and refrigerant charge (CFC-free)
Cold water circuit with large tank, water circulating pump, water replenishment facility and all connection lines
Complete electrical control cabinet with all necessary control and monitoring equipment,
completely wired with digital temperature controller
Each device undergoes a performance test at the factory
Main areas of application:
The areas of application for RKH industrial coolers are as varied as there are sectors and branches of industry.
DELTATHERM® RKH industrial coolers are used in plastics processing, resistance welding technology, for cooling hydraulic presses, compressors, Trichloroethene (Tri), Tetrachloroethene (Per) cleaning systems, laboratory and test systems, electroplating baths, paint baths, X-ray systems,
in laser technology, for cooling industrial equipment, drilling and cutting emulsions, machine tools, in the chemical industry and many others.
Outdoor installation
Air filter mat
Centrifugal fans

Split version
Noise-reduced design
Water cooled condensers
Multiple circuit system
Special evaporator made of stainless steel
Heat recovery with stainless steel boiler
Water circuit made of stainless steel or PVC for deionized water
Closed water circuit with diaphragm expansion vessel
Water flow meter
Enlarged circulation pump
Ball shut-off valves at the water inlet and outlet
Frost protection thermostat
Winter control for low ambient temperatures
Tank heating for‭ ‬tempering‬‬‬
Bus connection, e.g. Profibus DP
Single fault indication (in plain text display or as bit technology)
Stepless power regulation
Flow monitor with analogue or digital signal
Limit temperature monitoring
Temperature difference regulation
External temperature sensor
Control cabinet heating, control cabinet fan
Refrigerant high and low pressure gauge
Heat recovery: Save energy and protect the environment.
Use surplus heat from your production processes for heat recovery to protect the environment and your bottom line. Via heat converters, the released waste heat of a low-temperature heating system can be fed directly or via heat pumps to any other heating circuit. Read more here.
If you need help or have further questions, we will be happy to help you. Feel free to send us a message via the above direct inquiry.