Hybrid cooler – dry cooling
with water spray
Cooling capacity from 5 kW to 15,000 kW
Free cooler with evaporative cooling for closed and open
Consumer circuits for outdoor installation

The very economical and environmentally friendly DELTATHERM® hybrid coolers work according to the compressor and air cooler principle. At outdoor temperatures above the desired flow temperature, the control method for hybrid coolers kicks in so that cooling water can be produced purely by air cooling.
The system is an ideal alternative to open evaporative cooling towers, as the disadvantages such as pollution, salt and oxygen accumulation and legionella formation as well as water evaporation are eliminated.
Hybrid cooling: exttremely energy- and cost-saving process cooling
Unlike pure dry cooling, hybrid cooling or adiabatic cooling does not require that the outside temperature be higher than that of the cooling medium.
If this is the case, the evaporative cooling generated (via water spraying) by the hybrid cooler maintains the desired temperature of the cooling medium.
Like all free cooling systems that are installed outside, DELTATHERM® hybrid coolers operate with antifreeze all year round to prevent freezing in winter.
By avoiding water losses and saving on chemicals for water treatment, the operating and maintenance costs are thus also considerably minimised. At the same time, operational reliability and availability of the production plant are increased.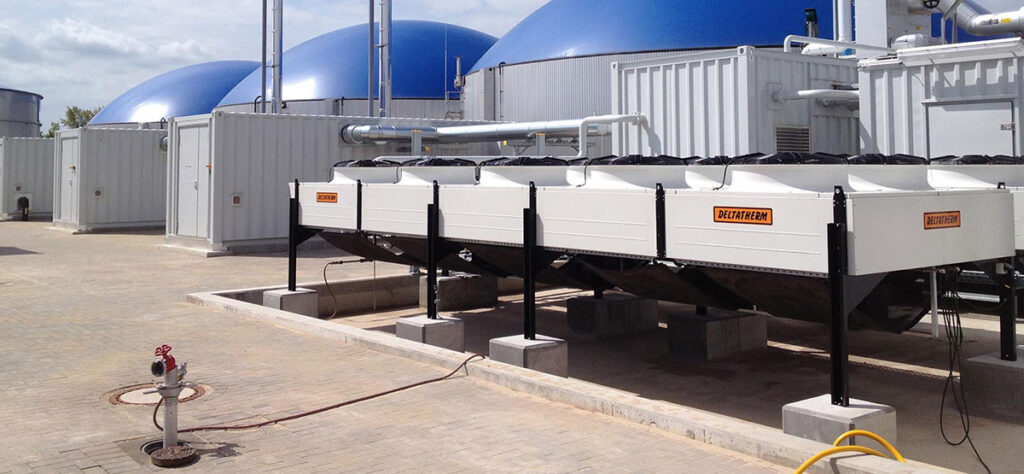 Quality and performance features of hybrid drycoolers
Due to their V-shape, our hybrid coolers are very space-saving, just like the pure dry coolers,
and are additionally available in horizontal and vertical design
The heat exchanger body consists of copper tubes with pressed-on aluminium fins for highly efficient heat transfer (special versions iron/stainless steel as option)
Special high performance radial or axial fans stand for a low
noise generation
Adiabatic cooling is very dependent on the humidity conditions of the air drawn in.
Here, similar to dry cooling, the combination of hybrid cooler and refrigeration system is recommended under certain circumstances. The advantages of using a refrigeration system in combination with a hybrid chiller are the same as for glycol coolers:
Savings in operating and energy costs
Reduction of CO2 emissions and environmental protection
Constantly high temperature stability of the cooling medium during process cooling
Efficient use of existing resources


If you need help or have further questions, we will be happy to help you. Send us a message directly via the above direct inquiry
Glycol cooler / Dry cooler product views