GLY Series glycol recirculating chillers Dry cooling only via air
Cooling capacity from 5 kW to 15,000 kW
Free cooler for closed and open consumer circuits for outdoor installation

DELTATHERM® recirculating chillers of the glycol series are characterised by an extremely economical and reliable operation as well as a long service life.
Our glycol recirculating chiller range includes a variety of recirculating chillers with closed or open consumer circuits which are available in different designs such as the V-shape or in vertical and horizontal versions. Standard glycol coolers are offered in hot-dip galvanised sheet steel with weatherproof paint; optionally also with stainless steel cladding.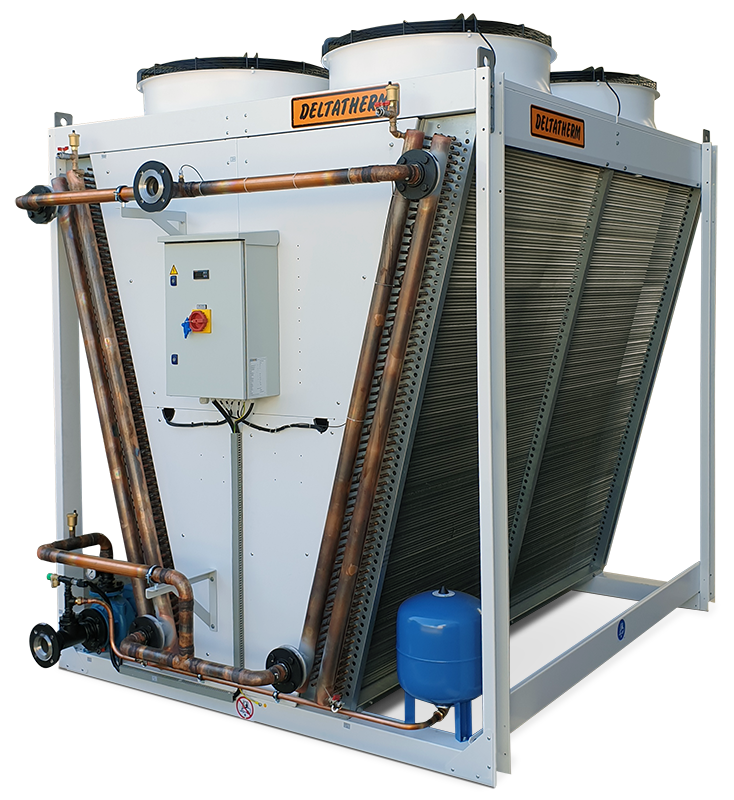 Dry coolers cool with air only: energy-efficient and environmentally friendly
If water is not available for wet cooling, dry coolers or glycol coolers (also called glycolers) of the DELTATHERM® GLY Series are regularly used.
In a dry cooler, a heat exchanger releases the excess energy to the ambient air. This is usually equipped with fans for optimised cooling performance.
Possible applications of free cooling
Free cooling can be used in different ways for process cooling. Depending on the climatic conditions of the location, the existing spatial, technical conditions and prerequisites, there are different approaches and possibilities.
We will be happy to advise you on this.
Dry cooling with air only
If only pure dry cooling with air via free coolers is to be used, then the outside temperature must always be lower than that of the medium to be cooled. With dry cooling, the cooling water temperatures depend on the ambient or outside temperature.
Therefore, a dry cooler is particularly suitable when the medium temperatures are higher than the outside temperature; e.g. between 10 °C and 25 °C. The northern European climate is advantageous for the use of free cooling.
Dry cooling therefore does not incur any additional energy costs, as is the case with compressor cooling.
A very economical and environmentally friendly as well as efficient way of process cooling.
Combination of free cooler and refrigeration system
Hybrid cooling with air and water spraying
If you need help or have further questions, we will be happy to help you. Send us a message directly via the above direct inquiry.